As a manager or executive officer of a company in the industrial sector, you already know that the cleanliness and hygiene of your premises are part of your employer's obligations, essential to guarantee your employees working and safety conditions. optimal. This sector is particularly messy, can handle dangerous and polluting products and materials, and has the particularity of requiring large surfaces with specific treatment protocols. However, to operate in a healthy, secure, and clean environment, the cleaning of industrial premises must be carried out in accordance with the rules of the art, in accordance with the imposed standards. It is then necessary to call on specialized companies capable of providing these professional cleaning services.
Cleaning of premises and industrial equipment
In industrial companies, buildings require a very precise maintenance protocol in accordance with the activity carried out there. The maintenance of these premises therefore responds to specific instructions, hence the importance of seeking the help of a qualified and specialized cleaning lady for a result that meets standards. As with any business, cleaning plays an
essential role in the activities of an industrial company. First of all, it's cleaning of industrial equipment premises allows keeping surfaces and working tools clean and healthy. This is essential to fight against the spread of viruses and infectious diseases, but also against contamination by dangerous substances.
In addition to ensuring the health of employees, the cleanliness of industrial sites and tools also guarantees their safety. It reduces the risk of accidents linked to poor maintenance and malfunctions (failure of the containment of a cell due to an accumulation of debris that hinders the closing of a door, for example).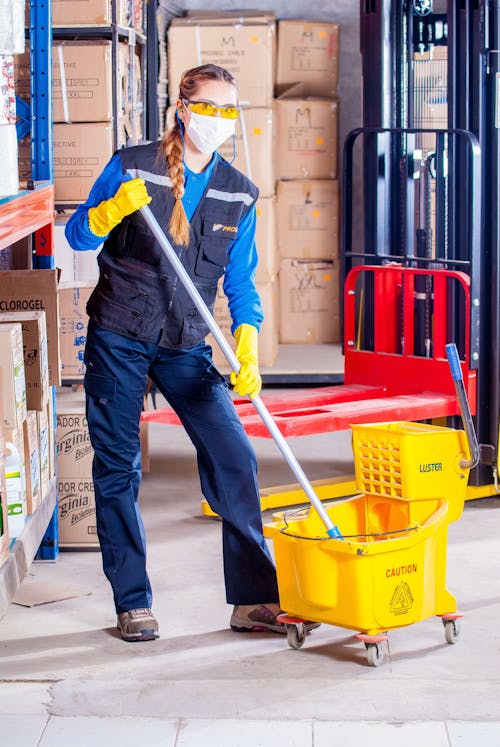 Effective cleaning of industrial premises also creates a welcoming environment for visitors and motivating for employees. This is because even though factories rarely receive visits, customers or inspectors may come to the site to make observations or for other reasons. In this case, the cleanliness of the premises will give the company a professional, serious, and respectful image.
In addition, cleaning work surfaces helps prolong their life. Over time, dirt and grime can build up, reducing their efficiency and performance, on the one hand, and increasing the chance of equipment failure, on the other hand.
The various services for the maintenance of industrial premises
Industrial cleaning, what is it?
There are industrial cleaning and cleaning of industrial premises. The first designates all maintenance services for premises for professional use, such as cleaning of offices, shops, buildings, and hotels.
The cleaning of industrial premises, meanwhile, corresponds to the cleaning of sensitive areas on industrial sites, such as factories, power plants, warehouses, etc. It also concerns the maintenance of offices at industrial sites and that of machines and work tools. Cleaning in an industrial environment is more difficult, more dangerous, and requires compliance with a precise protocol.
Types of industrial cleaning services
In general, industrial premises require routine and specialized cleaning services. The basic offer includes dusting, washing and drying floors, maintaining walls and fabrics, cleaning windows, washing, and drying equipment.
In addition to these common cleaning services, there are specialized offers, among them is heavy cleaning. This service concerns the cleaning of machines and warehouses: cleaning and maintenance of machine tools, degreasing of machines, disinfection of air-cooling towers, removal of traces of oils and grease, stripping of metal parts, handling of industrial waste, cleaning of tanks and silos … Other types of specialized cleaning services, dedicated to industrial sites, also exist. These include, but are not limited to, asbestos removal, hydro-stripping, cleaning up a mercury spill, removing molds, decontamination, etc.
Frequency of cleaning in industrial premises
Depending on the aforementioned services, there are three types of maintenance according to their frequency. The first is routine cleaning, to be done daily. It mainly concerns horizontal surfaces, such as worktops, furniture, etc., and sanitary equipment.
The second is the weekly cleaning, to be done once a week. This supplements the daily cleaning services and mainly concerns radiators, windows, and hard to reach areas.
Finally, the last is the quarterly or annual cleaning. This is a deep cleaning that involves vertical surfaces, such as walls and doors, and lighting. It often takes place during vacation periods.
The standards to know in terms of cleaning industrial premises
industrial premises cleaning standards to be observed in terms of cleaning industrial premises depend on the sector of activity in which the company operates. Thus, in food factories, many health rules must be respected. The latter aim in particular to avoid any risk of contamination. For this, certain precautions must be taken, such as the separation of raw materials and finished products from cleaners. Employees must also take care of their personal hygiene and a more frequent cleaning rhythm must be adopted.
In the high-tech industry, cleaning is easier. However, in the event of the production of waste harmful to health, certain well-defined protocols must be followed. The main purpose of these is to protect employees and the environment from any risk of contamination.
In the metallurgical industries, it is especially the cleaning of machined parts that poses a problem. The methods and equipment available do not always allow effective dirt removal and today there are more advanced techniques that allow the removal of impurities from machined parts effectively. This is the case with dry ice blasting.